Category Archives:
Film
Like an appetizer at a grand feast, yesterday was tasty – but a taste was all it was!
How are your feet? Wearing comfortable shoes? Good. How's your back? Is the strap on your pack strong enough to carry a heavy load of books, toys and other weighty paraphernalia? Excellent. You're very nearly prepped.
Today begins Day 2 of Fan Expo Canada – and it's the first of the two longest days of the pop culture convention operation, starting at 10:00 AM and running until 7:00 PM.
If you didn't get a chance to make a run to those exclusives tables, make sure you do it first thing this morning – they're not going to be around much longer. And if you want original art from some of your favourite pencillers and painters in Artist Alley, take it from me and do it now.
Here's what Biff Bam Pop! thinks you should be checking out on Fan Expo Canada Day 2: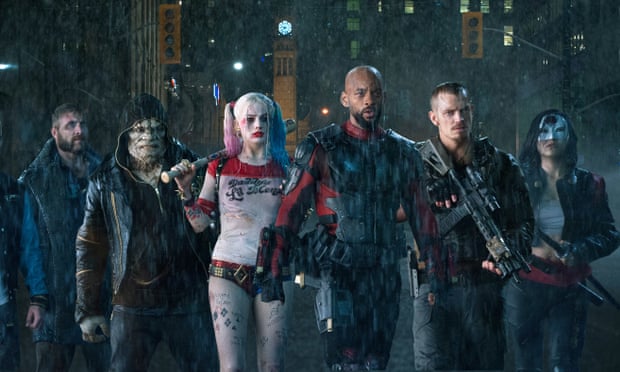 It's the Labour Day weekend. Probably the slowest weekend of the year, movie-wise. People go to the cottage, go to the Canadian National Exhibition, hit Fan Expo, stuff like that. And some folks still go to the movies. But not many of 'em. One of those non-movie peeps is our own Andy Burns, off to Fan Expo. So this weekend I'm making the box office predictions. Cuz I'm Vegas like that. This weekend there's a tired old dog limping toward the finish line, and a few new pups eager to show their moxie. Where you gonna put your chips?
Huzzah! You made it through the last sleep!
Today begins your personal hero's journey into pop culture nirvana (and mayhem) with Day 1 of the four-day Fan Expo Canada convention!
Yesterday, we gave you a high-level view of some of the things you need to see and/or experience at the 2016 installment of Fan Expo Canada. You can read that piece right here.
Admittedly, there's a lot to do. Hopefully, you've spent the requisite time reviewing the Fan Expo Canada website with this year's guests, scheduling and general happenings. If you haven't, go there now. Don't worry. We'll be waiting for you here when you get back.
Good. Now, hopefully you've got your ticket. If you don't, what are you waiting for?
Open from 4 PM to 9 PM, Thursday is a good day for scanning the booths, getting your bearings, and figuring out prices at Fan Expo Canada. But if you know what you want, and you know it's in limited supply, it's also a good day to be strategic and get that stuff first. Beat the hordes coming in the next few days!
Here's what you should be checking out on Fan Expo Canada Day 1:
We hear about Syria a lot these days. Ravaged by ISIS, crushed by their own dictatorial leaders, the Syrian population is wildly displaced, with millions of refugees looking for new homes around the globe. But we don't know a lot about the actual country. TIFF looks to fill that gap, with a week-long program of Syrian films called Syria Self-Portraits: Chronicles of Tyranny, Chronicles of War. Stars in Broad Daylight is one of the oldest in the program, from 1988, by Syria's foremost filmmaker Ossama Mohammed. It's a bleak comedy, an absurd look at the country's longstanding oppression.
"Ninety percent of everything is crud." – Theodore Sturgeon
Hello and welcome to another installment of The Ten Percent, a regular column here on Biff Bam Pop! where every other week K. Dale Koontz and I take a look at the inverse of Sturgeon's Law; in other words, the ten percent of everything which is not crud. Sometimes it can be hard to remember that for each film or television show that gets people talking years after its premiere, there are hundreds of others that barely cleared the horizon before being (thankfully) shot down. The works that soar above the rest – well, those are the works that stand the test of time. The Ten Percent last for two reasons: (1) they are high quality productions which demand more of their viewer than simple passive reception and (2) they somehow manage to capture something fleeting and rare and preserve it for the lucky viewing public.
Fritz Lang's M (1931) fulfills both of these criteria, and then some. The scene is late 1920s Berlin, a city supposedly gripped by fear in the wake of a series of brutal child murders (and, it is intimated, horrific sexual assault). The police are working overtime, and using the latest techniques in criminal investigation, including fingerprints, handwriting analysis, and an early form of psychological profiling – all to no avail. They are also "rounding up the usual suspects," conducting raid after raid on known criminal hangouts and operations. Yet the killer remains uncaught. More than the first police procedural (which it is), or the first serial killer film (which it also is), M is a portrait and condemnation of German society in the late Weimar Republic.
When I grow up I want to be a pirate airship captain. On this edition of Creations of Chaos, it's Studio Ghibli's Laputa: Castle in the Sky.
With the obvious front-loaded fan base of the Suicide Squad film, David Ayer's critically panned flick still made mad money in its first weekend of release to the tune of $135 million.
And then it managed to defy hugely lowered box office expectations in its second weekend, bringing in another $45 million.
We all know that critical appraisals haven't been kind, but we have our more upbeat review of the flawed movie here, if you're interested in a little Internet positivity. I know. It's tough to come by these days.
Like all big comic-book-to-film movies, we here at BBP are always wanting Easter Eggs and, despite the relative obscurity of its' main characters, it was no different with Suicide Squad. In fact, the fertile grounds that give birth to these kinds of Eggs might have never been riper!
You can catch up on our Suicide Squad Easter Eggs Wants right here, but now that we've all seen the flick, let's find out if we got the secret, tasty eggs we were hoping for!
An orphan, a mystery, and a secret friendship: in this edition of Creations of Chaos, I reconnect with the types of stories I obsessed over as a child, as I discuss Studio Ghibli's When Marnie Was There.
You don't have to go very far to get an opinion on the new Suicide Squad film.  Chances are, you hit the Internet and the first thing that comes up are the negative reviews. And there are a lot of them.
It's a shame, really. All of us comic book and pop culture fans wanted the film to be great, didn't we? We wanted to be thrilled at the idea of a group of hardened criminals, forced to work together for a greater good. We wanted to see the new twists and turns of the DC Expanded Universe (DCEU) as its film empire gets firmly rooted, takes shape, ushers us all forward. Hell, we wanted to see Jared Leto's crazy-looking Joker!
The truth is the film is certainly flawed in its story. You just can't hide that fact. But the film is not as bad as the many reviews have been saying, thank goodness.
Suicide Squad is not pretty, but it's definitely got some guts – and a lot of heart – in it.