With news that the Diamond shutdown is ending next week and a beautiful river of books soon to start flowing once again, I figured this week I would share a few new indie series that are coming out soon that I am very excited for. If my columns have inspired you to jump into the indie scene, but you don't know where to start, these are some great jumping on places.
The first series is Adventureman from Image Comics. Here's the blurb:
A CATACLYSMIC ADVENTURE DECADES IN THE MAKING! In this WILDLY AFFORDABLE TRIPLE-LENGTH FIRST ISSUE, revisit how the legend of the greatest pulp hero of them all, ADVENTUREMAN, ended in a heartbreaking CLIFFHANGER with our hero facing execution at the vile hand of his ultra-nemesis BARON BIZARRE on the eve of the MACABRAPOCALYPSE…or did it?!? Eighty years after his apparent demise, single mother Claire and her Adventure fan son Tommy seem to be the only two people alive that remember the thrilling ADVENTUREMAN sagas…but from that memory burns THE SPARK OF RESURRECTION! WHERE HIS STORY ENDED…HER STORY BEGINS! This sense-obliterating, earth-shaking, imagination-quaking adventure that spans generations comes to you from MATT FRACTION (SEX CRIMINALS, Hawkeye) and TERRY & RACHEL DODSON (RED ONE, X-Men/Fantastic Four)!!!
Why I'm Hyped: First off, this is an all-star creative team. If you haven't been reading Matt Fraction's run on Superman's Pal Jimmy Olsen you are missing out on the best Superman book DC is currently producing. Fraction is a fantastic writer who can weave a complicated and fascinating story, and the idea of him tackling a throwback, pulp-style adventure is a perfect fit. His work on Jimmy Olsen shows that he has a firm grasp on older comic techniques, basically making each issue a homage to Jimmy Olsen's original comic run, while also making that format interesting and accessible to modern readers.
It's always nice to see writers not only paying homage to the past but also doing something new and interesting with it. It feels like it's been a while since we have had an old fashioned, pulp-style adventure, and I think right now, with our superhero-drenched culture, the time is perfect to resurrect some of those classical tropes for a modern audience. There is an entire generation out there that doesn't know about The Shadow, The Phantom, The Spirit, or any of the other really classic heroes, and doesn't get why they had such a grip on the American psyche. There have been a handful of attempts to bring back some of those characters for the modern-day, and a few have some limited series runs here and there, but I really think that Fraction has the talent, and the right approach, to bring attention back to this genre in a way that will catch people's attention, and maybe encourage them to see out some older books in trade and digital formats.
And, as if that wasn't enough of a reason to pick up this book, the Dodsons are doing the artwork. Rachel and Terry Dodson are, in all honesty, among my all-time favourite artists. They are the perfect art team for a pulpy, throwback style book like that and their inclusion alone should be enough of a reason to pick this first issue up. Add to that that the first issue is triple-sized, and you have yourself a formula for success. This is definitely number one on my list of anticipated books and I can't wait to read it.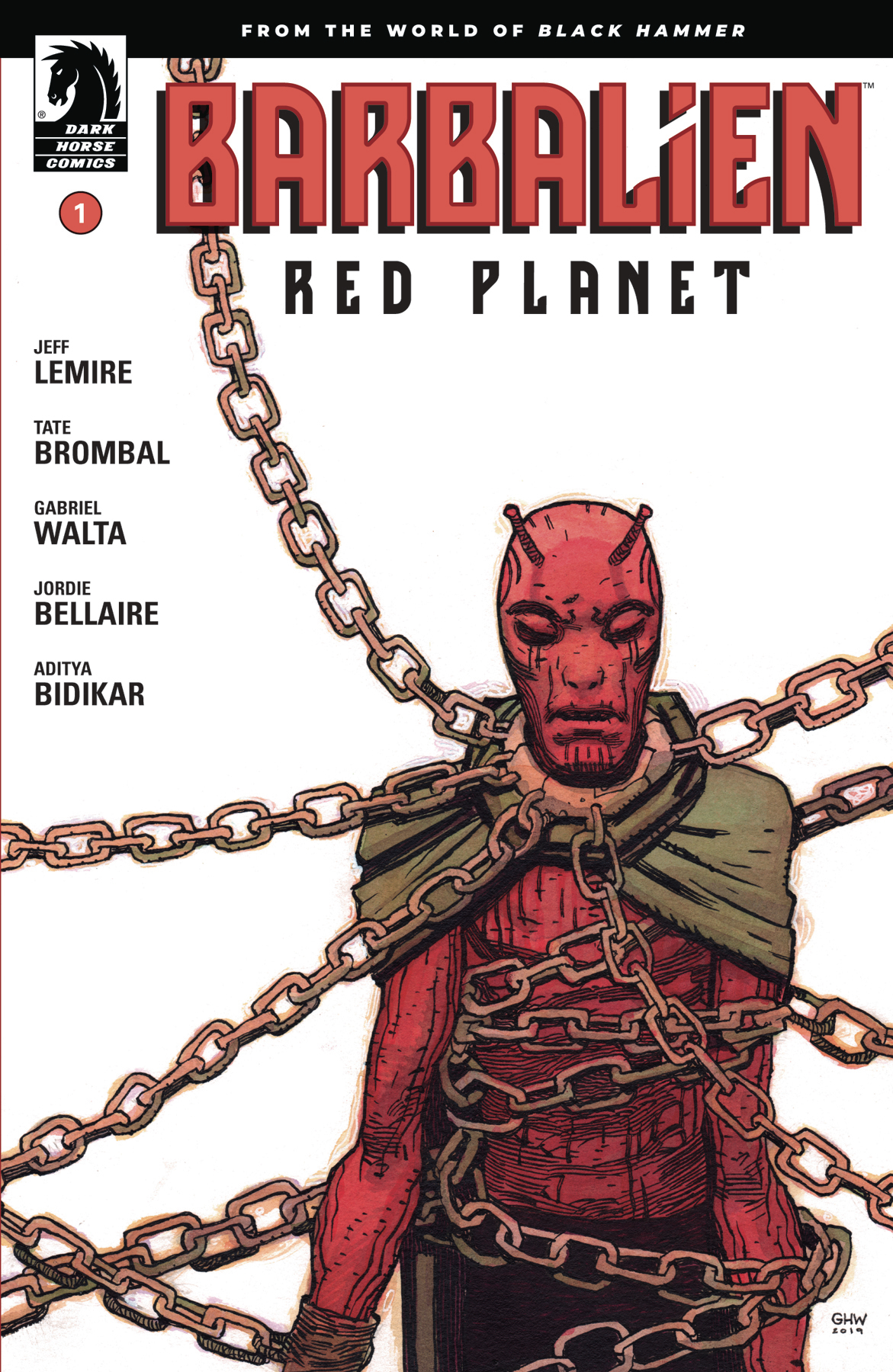 Up next is Barbalien Red Planet from Dark Horse Comics. Here's the blurb:
A groundbreaking new sci-fi action series in the world of the Eisner Award-winning Black Hammer universe, about prejudice, honor, and identity. Mark Markz has found his place on Earth as both a decorated police officer and as the beloved superhero, Barbalien. But in the midst of the AIDS crisis, hatred from all sides makes balancing these identities seem impossible-especially when a Martian enemy from the past hunts him down to take him back, dead or alive. Written by Tate Brombal with art from Gabriel Hernandez Walta.
Why I'm Hyped: There is a lot going on in this series. First off, it's a prequel to Jeff Lemire's spectacular Black Hammer series, which is one of the best indie superhero comics I have read in a long, long time. If you never read the original, I definitely recommend hunting it down. It's one of those rare books that manages to simultaneously deconstruct the entire superhero genre, while at the same time creating an entirely new and fresh superhero universe of its own. Lemire is a rock star author who is probably the most skilled world builder in comics today. Check out Descender, Ascender, Sweet Tooth, Essex County, or any other book he wrote to see what I'm talking about.
The author of this series, however, is Tate Brombal, a relative newcomer to the comic book industry. Most of his writing credits so far have been television-related which might make you think I am hesitant to give this book a recommendation, however, there are two things that help ease any worry I have about this. The first is that I can almost guarantee that everything he writes is getting Lemire's stamp of approval before it goes out, meaning that the backstory he creates is definitely going to fit well into the world Lemire created. The second thing that makes me feel better is the fact that Gabriel Walta is doing the art.
Walta is an author with pretty solid credentials behind his name. In addition to working with Lemire on Sentient, he is probably most well known for his work on Vision with Tom King. He knows how to draw a complicated story, and he knows how to work with creative minds to put forward the best representation of their vision, as well as adding his own creative stamp. I'm sure Lemire had input into his inclusion into this project, and so with those stamps of approval, I can calm any worry I have and happily endorse this book.
Again, if you have never read any of the Black Hammer books before, now is definitely the time to do so.
My last recommendation is Dead Day from Aftershock Comics. Here's the last blurb:
Dead Day. If the dead could come back for just one night, would we want them to? Meet the Haskins, a seemingly normal suburban family, as they prepare for the annual macabre holiday known as "Dead Day" – when the deceased rise from the grave from sunset to sunrise. Some come back to reunite with family and friends, others for one last night of debauchery, still others with only one thing on their decomposing mind: revenge.
Written by Ryan Parrott with art from Evgeniy Bornyakov.
Why I'm Hyped: I love this premise. Unique and interesting ideas like this always get me hopes up, probably higher than there should be, but still, this series has so much potential moving forward. I cannot wait to dive into this work and see what the author comes up with.
Speaking of authors, Ryan Parrott is not an author I know that well. Most of his work has been on The Mighty Morphin Power Rangers, a licensed title book for BOOM! Studios. I have nothing against licensed titles or the Power Rangers, but neither is my usual cup of tea and so I have not read anything from Parrott's Power Ranger's anthologies. However, those people I know who have read them have had only had good things to say, and since Power Rangers is one of the flagship titles from BOOM! I find it hard to believe he could be anything other than skilled and competent.
Evgeniy Bornyakov, on the other hand, I am more familiar with, having seen his work on both You Are Obsolete and Descendant, both from Aftershock. Bornyakov is very skilled with creepy imagery and with building uncomfortable tension, so I can't wait to see what he puts together on this book. The idea of a party with grandma's reanimated corpse makes me laugh, and the thought of Bornyakov illustrating it makes me smile.
So there you have it, three books coming soon that you can ask about at your LCS. Join me next week when I'll have a new book, hot off the presses to talk about. Make sure you get out there and support your local comic shops next week in any way you can!