When you think about '90s superhero comics, there are probably a couple things that come to mind. If you were born too late to be a part of that time, you may only think about the ridiculous excesses that came symbolize all that was wrong with that era. Big, bulky hunks of men, dripping with shoulder pads and pouches, holding ridiculously vicious looking weapons while screaming against backgrounds consisting of only a few quickly scratched lines and bright colours.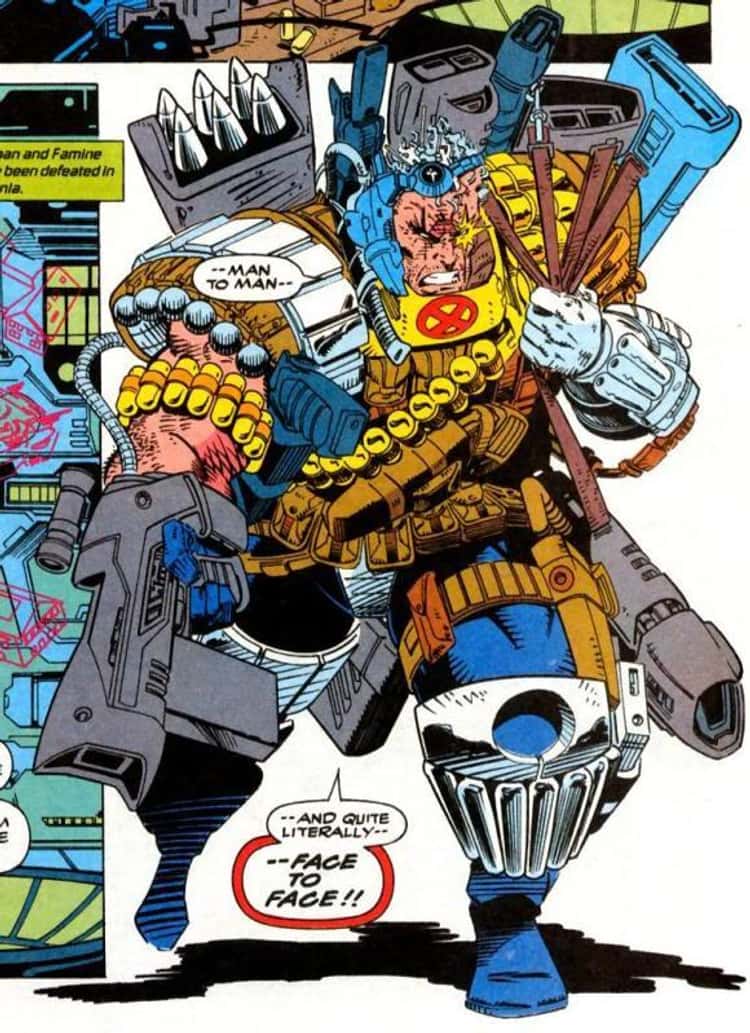 Women, or course, rarely fared much better. Hourglass figures stretched to extreme, spines bent at impossible angles, and costumes that could only have been skimpier if they were painted on, and in many cases probably were.
If, on the other hand, you actually lived through the '90s like I did, and were collecting comics at the time like I was, you'd know that, while these tropes certainly did make up a lot of the comic book market, there was also a growing push to bring new, and very different kinds of stories into the mainstream. Many readers like myself began to tire of the excesses, and started looking for characters that were less about ultra violent explosions, and more about the zeitgeist of the time.
The result of this push can be seen in things like Neil Gaiman's Sandman, Grant Morrison's Doom Patrol, Garth Ennis's Preacher, and, most importantly of all for today's article, Mike Allred's Madman.
If you've never heard of Madman before, you can be forgiven. Premiering in 1990, Madman was a wild and bizarre series about a freakish hero, known as Frank Einstein, a reanimated corpse come back to life in a superhero costume. He had limited powers, mainly involving acrobatics and latent psychic abilities (as well as a deadly yo-yo), which he used to fight and support a cast of heroes and villains as bizarre and unique as he was.
Outside of comic shops, however, Madman was relatively unknown. He didn't have flashy holofoil covers or an animated series, and despite some interest, he never got a movie. Madman's stories were just aa unusual as the titular hero, and while he certainly engaged in his own array of superhero style adventures, he also spent a significant amount of time asking questions about his purpose, and the absurdity of everyday life. This gave his ridiculous reality a grounded feel that was lacking in a lot of other comics, but in a world where flash and bang ruled the day, this book could, and sadly frequently was, easy to overlook.
But while the public at large may have remained ignorant of the character, indie comic fans, and indie comic creators were not. Madman gained a solid cult following, enough to keep his books on shelves well into the 2000s, and even warranted an eventual crossover with Superman, before seemingly falling back into obscurity.
Recently, however, Madman has enjoyed a bit of a resurgence, with cameos in both Invincible and Crossover, the latter of which featured him on the cover of several issues. And with the popularity of series like The Umbrella Academy and Doom Patrol, it seems like now is the perfect time for new readers to explore this 90's era masterpiece that still has a lot to say about the world we live in today.
Volume 1 of the Madman Library Edition dropped a few months back, and Vol 2 is due out in January, so I thought I'd dive into it a bit and get it on your radar. Many of you are no doubt about to have pockets full of gift card from grandma, and what better way to spent those Amazon dollars than supporting indie comics creators?
So let's see why this book deserves those grandma dollars.
Here's the blurb:
From Madman's first appearance through his mysterious origins to his adventures throughout time, space, and pop-art absurdity; follow Frank Einstein's superhero alter ego Madman as he adventures through Snap City and encounters many zany and timeless characters and villains in this true homage to superhero fiction, metaphysical philosophy, 1950s science fiction films, rock and roll pop music, and much more in this truely humorous and heartfelt comic book classic!
This six-volume Madman universe omnibus library edition series collects all of Allred's award-winning Madman universe (a.k.a. the "Madmaniverse") stories in selected reading order for the ultimate Madman fan!
This 680-page volume collects Madman's adventures from 1990 to 1996, reprinting "For the Record," Madman (original series) 1–3, Madman Adventures 1–3, and Madman Comics 1–10, Mike Allred's never-before-published first foray comics called THEY!, and featuring bonus pinups and art by some of comics' greatest talent like Frank Miller, Jack Kirby, Moebius, Frank Frazetta, Emily Carroll, and more!
As I said, this book is the perfect encapsulation of a very specific, but also very important part of '90s comic and pop culture. Madman might not have been the book you read, but you better believe it was the comic that many of your favourite creators read, and with good reason. Madman embraces the weird and unusual in life, and like a handful of other books attempted to capture the bizarre '90s feeling of both despair and hope.
I've made the comparison to Doom Patrol, but this book also reminds me of a more obscure Vertigo title: Shade the Changing Man. If you read Shade you know what I mean when I say that, for a lot of us in the '90s there was this constant feeling of existential crisis, like, that everything was good, but in that it meant that there was no real meaning to life. It's hard to put it into words, but back then I know I constantly felt like life was shite, but also that there wasn't anything that could be done about it. The forces in power were too strong, and we were too weak, and so the only hope for change was that maybe, if we pointed out the absurdity in life to enough people, they might also wake up and try to change things for the better.
This vibe permeated a lot of indie comics during the era, and it became an almost religious duty to mock the establishment, and use the framework that they created to highlight the absurdity of the framework itself.
And this book get's that. As I reread these adventures, presented in a beautiful new prestige format, I was instantly transported back to this time in my life. I'm not going to say that when I opened the cover Nirvana came on the radio and my hair grew back down to my shoulders, but in my heart it did.
If you love indie comics, you need to read this book. You're going to see a lot that's familiar, but also a lot that is new. It's a time capsule that our current generation needs to break out and study now more than ever, and maybe that sense of existential hope can live again, this time with better results.
Or maybe I'm just an aging GenXer yearning for my misspent youth. Either way, it's a damn good book and you should go check it out!
Madman Volume 2 drops in January, so go get Volume 1 now and get caught up! Until next time, stay safe.