Daily Archives:
May 6, 2011
The start of the summer movie season begins this weekend with the release of Thor in theatres. The first full weekend of May usually starts the season off with a bang, and Thor hopes it can continue that trend. Two other major films are getting released this weekend (the romantic comedy Something Borrowed and the comedy Jumping the Broom) as counter-programming to the action-adventure flick, but there is no doubt in my mind that the #1 and #2 films at the box office this weekend will be Thor and Fast Five. The big question of the weekend will be whether or not Thor can gross $100 million on its opening weekend? Here's how I see the weekend breaking down:
Thor is the major release of the weekend and it is based on the popular series of comic books. The film follows Thor as he causes an ancient war in his home of Asgard to be reignited and as punishment; he is banished to Earth until he learns to become a true warrior. He learns to stand up and fight for humans, especially when an enemy of his from Asgard sends a deadly force to conquer Earth. The film does not have a major star in the lead (Chris Hemsworth is most famous for his brief appearance in J.J. Abrams reboot of Star Trek), but the film is surrounded with great talent. Natalie Portman, Anthony Hopkins, Kat Dennings and Stellan Skarsgard all star in the film and Kenneth Branagh is the director. The first full weekend of May usually generates big opening weekends for the major release of the weekend. See below:
2006 – Mission Impossible III – $47.7 million opening weekend
2007 – Spider-Man 3 – $151.1 million opening weekend
2008 – Iron Man – $98.6 million opening weekend
2009 – X-Men Origins: Wolverine – $85 million opening weekend
2010 – Iron Man 2 – $128.1 million opening weekend
Average Opening Weekend – $102.1 million
Thor looks to continue the trend of strong opening weekends to start the summer movie season, but I don't think that it will crack $100 million. The main reason is that it is not a sequel, so word-of-mouth will play some role in the success of the film, even though the film has been really well-marketed. Critics really like the film as Rotten Tomatoes lists the film at 83% positive as of this writing. Debuting in 3,955 theatres, I'm predicting that Thor will gross $96 million and finish in 1st place.
Something Borrowed stars Ginnifer Goodwin, Kate Hudson and John Krasinski and follows a woman who is unlucky in love, but ends up falling for her best friend's fiancé. The marketing of the film has been subpar, and the trailers don't really make the film stand out. The star power is not the greatest either, and although this film is designed to be counter-programming to Thor, I think there are better options for audiences to see. Rotten Tomatoes has the film listed at 16% positive as of this writing, which is not going to help draw audiences to come and see the film. Opening in 2,904 theatres, I'm predicting that Something Borrowed will gross $10 million and finish in 3rd place.
The final new release of the weekend is the comedy Jumping the Broom. The film stars Angela Bassett and Paula Patton and is about a couple, from very different backgrounds, that are getting married. The film is not getting a major release from TriStar and there has not been a lot of marketing on the film. The comedy is again designed to be counter-programming to Thor but I don't think it will succeed. Rotten Tomatoes has the film listed at 45% positive as of this writing, so the mixed reviews will not help its chances. Debuting in 2,035 theatres, I'm predicting that Jumping the Broom will gross $5 million and finish in 6th place.
Among last weekends holdovers that will still be in the top five this weekend, here are my predictions:
Fast Five had a massive debut last weekend, posting the best opening weekend of the franchise, and having the best opening weekend ever in the month of April. So now the question to be asked is how will Fast Five do on its second weekend? Here's how the franchise has done on its second weekend to give us an idea:
2001 – The Fast and the Furious – 50% second weekend drop
2003 – 2 Fast 2 Furious – 63% second weekend drop
2006 – The Fast and the Furious: Tokyo Drift – 59.1% second weekend drop
2009 – Fast and Furious – 61.6% second weekend drop
Average Second Weekend Drop – 58.4%
Fast Five will probably set a record for the franchise this weekend because I think it will have the highest second weekend drop in the franchise. I say this for two reasons: 1) It is a sequel, so it has more up front demand on its opening weekend and a bigger drop-off on its second weekend. 2) It is going to be competing with Thor. I'm predicting that Fast Five will drop 68%, giving the film a gross of $27.6 million and a 2nd place finish.
Rio will be the family choice in theatres this weekend as families that think that Thor maybe too violent to see will go see this instead. The film has held up well and I think this weekend should be no different. I'm predicting that Rio will drop 41%, giving the film a gross of $8.7 million and a 4th place finish.
Water for Elephants will be the choice for adult audiences this weekend who do not want to see an action-adventure film. I'm going to continue using The Time Traveler's Wife as my template to help my prediction for Water for Elephants. The Time Traveler's Wife had a third weekend drop of 33.8% back in 2009, so I'll make a similar prediction for Water for Elephants. I'm predicting that the circus romance will drop 36% this weekend, giving Water for Elephants a gross of $6 million and 5th place finish.
In limited release the following films are opening: Battle of the Brides (Co Dau Dai Chien), The Beaver, Caterpillar, Forks Over Knives, Haunted 3-D, Hobo With A Shotgun, I'm Not Jesus Mommy, An Invisible Sign, Octubre, Passion Play and There Be Dragons.
The Beaver, Caterpillar, Forks Over Knives and Hobo With A Shotgun are the only films in limited release to have a positive rating above 70% at Rotten Tomatoes as of this writing.
So to recap, here are my predictions:
Thor – $96 million
Fast Five – $27.6 million
Something Borrowed – $10 million
Rio – $8.7 million
Water for Elephants – $6 million
Think you can do better than me in making predictions? Go to http://www.boxofficemojo.com and sign up for "The Box Office Derby". Make your predictions and see if you can beat the man with the I.D. "ScottyG".
Remember to check back on Sunday to see how I did!
Could you kill someone if you were told it would save lives? That taking one life would mean allowing countless innocents to live?
For some, it's a pretty simple, cut and dried answer. It is for Paul, the main character in Image Comics' The Mission. When randomly approached in a lowlit parking garage by a man calling himself Gabe, who insists Paul must commit a murder and that he has 48 hours to do so, Paul is aghast at the request. He walks away, but Gabe keeps showing up, promising that bad things will happen if he doesn't take on his mission. It appears that Paul has suddenly been drafted into the war between good and evil.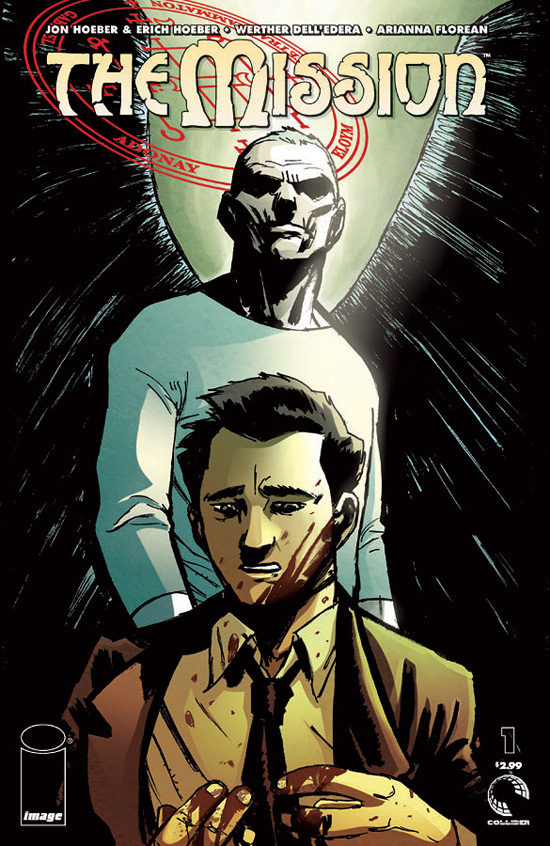 Written by brothers Jon and Erich Hoeber, screenwriters for the Hollywood hit RED, and illustrated by Werther Dell'edera, The Mission is one of the best comics I've read in a very long time, superhero or non. Over the course of the two issues currently available via the online comic book store Comixology, the Hoeber's have crafted a moody and suspenseful story that genuinely leaves you wondering what the heck is going on. Is Gabe who we think he might be? Is he good or evil? Why is he mission so important and why was Paul chosen for it?
Meanwhile, the lead character of Paul is someone you don't encounter every day in a comic book – he appears to be an ordinary, average guy with a family, a job, a crappy boss and a strong moral fibre that recoils at the thought of randomly killing someone. As the story continues, we (and Paul) are introduced to seedier and seedier characters and we're left not only wondering what will happen if Paul doesn't complete his mission, but what will happen if he does? The story and Dell'edera's art are both eerie without being graphic of horrific. The story could take place in any city, which helps it resonate with the reader that much more.
There's a really strong story flow throughout The Mission – you could almost envision it as an HBO or AMC mini-series. In fact, when I finished reading the first issue, which Comixology has currently available for free online, I immediately purchased the second issue. That's how engrossing The Mission is.
I chose to accept The Mission. You should too.