Daily Archives:
February 15, 2011

Unstoppable – This film is directed by Tony Scott and stars Denzel Washington and Chris Pine and follows an engineer and a conductor who have to try and stop a runaway train filled with explosives from crashing and incinerating a town. I'm a big fan of Tony Scott//Denzel Washington collaborations, and this one received excellent reviews from critics and is the highest profile title out on DVD this week. The film is inspired by true events and when I read about the actual event, I can see why it got made into a movie.

Waiting for Superman – This acclaimed documentary showcases the troubles of the American public education system by following students going through different schools. Although this focuses on American schools, I'm sure Canadians will be able to see some parallels between the U.S. education system and our own.

Doctor Who: A Christmas Carol – This TV special finds the Doctor dealing with a rich man, who is also the most powerful man on the planet that the Doctor lands on. When the two have a disagreement, the Doctor plans to use a little inspiration from Charles Dickens to get him to change his mind and see the kindness of the world. This DVD is for fans of the series, and maybe even for fans of the Dickens classic.

Ong Bak 3 – This film picks up where the second film left off with Tien being captured. Near death, he is released to a mysterious messenger, who takes Tien back to his village to rehabilitate his injuries. Once Tien is nursed back to health, he goes to confront Bhuti and to finally end their battle once and for all. The action scenes are supposed to be amazing (they were in Ong Bak and Ong Bak 2), although the story is not quite up to par. Still, for action fans, this is the DVD to watch this week.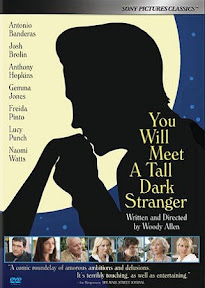 You Will Meet a Tall Dark Stranger – This Woody Allen film stars Anthony Hopkins, Naomi Watts, Josh Brolin, Antonio Banderas, Freida Pinto, Gemma Jones and Lucy Punch and follows an older couple (played by Hopkins and Jones) who are going through a divorce as Hopkins is going to marry a prostitute (played by Punch). The Jones character doesn't take this lying down and goes to a fortune teller in the hopes that her life will change. Meanwhile, their daughter (played by Watts) is going through a troubled marriage of her own (with Brolin's character) and everyone deals with relationships going sour. The film received mixed reviews on its release, but fans of the director will still want to check this one out.
TV ON DVD
Spin City: The Complete Fourth Season
The Fugitive: The Fourth and Final Season – Volume Two
Until Next Tuesday!
Great news – you never have to steal music again!
Now, hold on just one second. I'm not accusing you of being a crazy illegal downloader who hasn't payed for music since Britney uttered her first "ooo baby baby" and Lars Ulrich sued Justin Timberlake for inventing Napster (wait, that doesn't seem right). What I'm simply saying is, there's no reason to pilfer your music from shady places and take money from the rich and the poor and the not very rich and the very poor.
Have you heard of RDIO? It's a game changer. Legal, loaded and cost efficient.
RDIO is a streaming music service that has the full support of the major labels and a significant chunk of the smaller ones as well. You basically visit the site, sign up (it's free for a week) and start searching for all the music you want to hear. After a week, you can sign up for $10 a month. There are apps for your iPhone and Blackberry so you can stream straight to your smartphone (but make sure you have dollars and the data plan to cover it, though – I got dinged first month out on my iPhone). Even better – you get the option to sync the music so should you go offline, any music you sync from RDIO is available to listen to even if you're underground or wi-fi challenged.
Like I said, this is a game changer.
For weeks I wanted to check out Deep Purple's first album with David Coverdale, Burn. I thought about buying it off iTunes but I wasn't sure I wanted to spend the money. As soon as I hooked up RDIO, I streamed that badass album. I was glad I did. Same with Thin Lizzy's Jailbreak and Frankie Goes To Hollywood's Welcome To The Pleasuredome. These were all albums I was curious about, but was always reluctant to plunk down the money for them. But with RDIO, I can listen to them all I want. If I want to own them, I now know what I'd getting. And while it's not perfect (you can't listen to The Arcade Fire's Grammy winning The Suburbs or any Def Leppard on there yet), the artists I've looked for do tend to be available.
If people can get onboard (like my buddy Perry, who I'm following on RDIO and has some pretty decent musical taste, and The Queen, who thinks our Netflix subscription is a waste but is loving RDIO)), I think subscription based music services might just be the wave of the future. I don't feel the need to own as much now – I'm happy to rent. I know the artists are getting their money, I'm not stealing from anybody and in the long run I think I'm going to save money. RDIO doesn't mean I'm going to stop buying music. Believe me, I'm the first one in line when the new Yes album drops later this year. But it does mean I can hear more music and appreciate more diverse artists that I wouldn't want to spend $10 on (…And You Will Know Us By The Trail Of Dead's latest is a fine example).
$10 a month for as much music as you or I can listen to. I can't imagine how a music lover who believes artists should get paid for their art can say no.
Check out RDIO here.
Sony Pictures has released the first official picture of Andrew Garfield decked out in his new Spider-Man costume. We've seen him already sans mask, so this pic, with full-on action pose, is something entirely new. Check out the web-shooters! It's not what we're used to, but my first thought was that this looks pretty cool. And then I thought, "this looks like Spider-Man 2099!"
What do you think of the new costume?